Process Painting Project in 2018
January 19, 2018 / News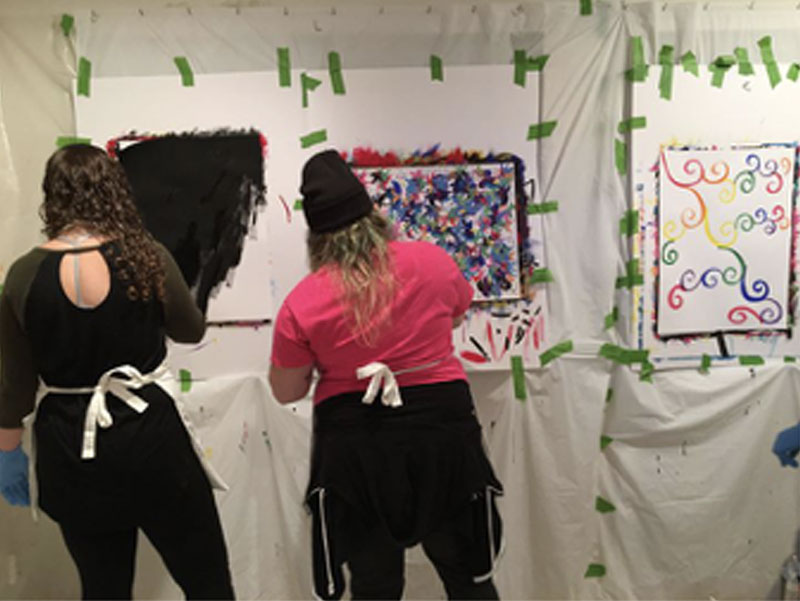 We are very excited to announce the continuation of our Process Painting Project in 2018. This is being made possible through continued funding by The Delaplaine Foundation and a generous donation from Ernie Brueggemann. We thank the Delaplaine and Ernie for supporting our holistic vision for patient care at our Frederick location. The Process Painting classes are facilitated by Rebecca Laughlin M.F.A.
Process Painting is painting experienced in silence, using only tempera paint and paper, during which the painter explores the Creative Process rather than directing one's attention on how the painting will look when completed. The intent is for the painter to become aware of their True Self as they experience how to quiet the mind that wants to both assign meaning and control the outcome. This unique painting process can be transformative —creativity flows and the unbridled joy of free expression is experienced.
Process Painting can be particularly helpful for individuals in recovery from substance use disorders, giving them the opportunity to quiet the mind's constant chatter and being guided by creative instincts, absent of preconceptions. Women of Wells House @Gale Recovery reported feeling calmer, less stressed, more receptive to people and circumstances, and experiencing a renewed, positive focus on their recovery.
Rebecca earned a B.A. in Art Education and a M.F.A. in Painting from American University in Washington, DC. Rebecca completed Master Intensive Training in Process Painting with Michele Cassou, co-founder of the Painting Experience in San Francisco, CA. Ms. Laughlin has been facilitating Process Painting workshops for the past several years in area art centers and at her New Moon Studio in New Market, Maryland. She has been on staff for several years; she is the Financial Administrator for the Wells House @Gale Recovery.